[VIDEO] 2.1 Navigating Student Work
For the full video tutorial playlist, please view here.
If you are the teacher of record for a course, when you log in to Paper you will automatically land on the "Teacher Tab" for yourself, which includes all of the packets for the curriculum you teach.
If you want to view packets/student work for a course under another teacher's name, use the teacher name dropdown to select that teacher.
If you/the teacher teaches more than one curriculum, you can switch between curricula in the dropdown menu where the curriculum name is displayed.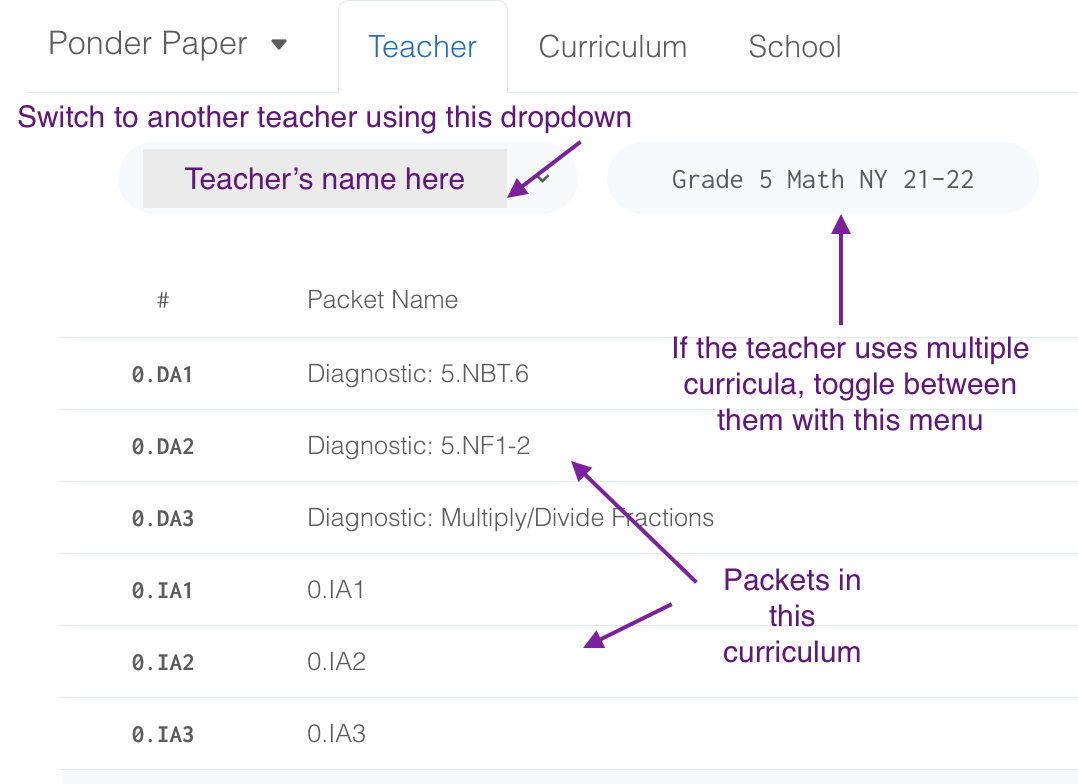 To view student work,
For full packets with data available (such as assessments), teachers can use question view and jump-to-standard view to examine student work alongside the data.
Teachers can access the time view, a grid that includes all students a teacher teaches and all packets that a teacher has printed in that curriculum.

It includes rows for all students assigned to the teacher for the curriculum, columns for each packet the teacher has printed. In this view, teachers can see the tags and scores on packets at a glance, filter and sort packets, can look at work on a particular standard over time, and can select a student/packet combination to view their work sample.
For 1-2 page exit tickets, teachers can use the tagging feature to indicate each student's performance or understanding.

The scan log includes a record of all the student work scans that have been uploaded by the teacher, as well as scans by another user that include student work connect to this teacher/curriculum. Teachers can use the scan log in the unusual event of a scanning error to resolve the issue (e.g. if a student accidentally wrote/drew on their QR code and Paper could not read it).
[click the above links to view help pages for each view]