[VIDEO] 2.5 Help with Time View
For the full video tutorial playlist, please view here.
Time View enables users to navigate between students' work on a multiple assignments/packets and to see students' progress over time generally and by standard.
Navigating the Time View
The left pane of the Time View is a grid with students listed down the lefthand side and packets listed across the top. Only the packets that the teacher has printed will be displayed. The right pane displays the student work sample that corresponds with the packet/student combination selected from the grid.
Keyboard shortcuts enable the user to navigate between students (up and down) and packets (left and right), and the right pane updates to reflect the packet/student selected.
Each cell displays information about the student's work on the selected packet. These symbols give the user a snapshot of student progress, as a group and over time.

For exit tickets, any tags the teacher entered will be displayed.
For full packets with data reporting from Illuminate, the student's overall score is indicated with a pie chart showing their overall score on the assessment.
If no tag or score is available, symbols indicate whether the student's work was scanned.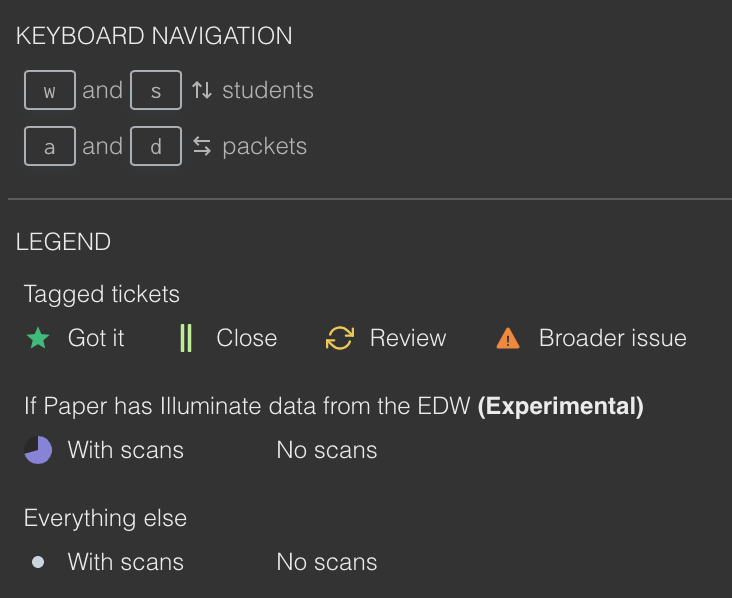 Filtering and Sorting the Time View
Users can filter the Time View columns by standard. When a standard is selected:

Only the packets which have questions tagged to that standard will be shown.
The pie chart indicating assessment scores will update so that the score shown reflects their score just on the questions associated with that standard.
The righthand pane will display only the pages with questions associated with the standard, rather than showing the student's work on the full packet.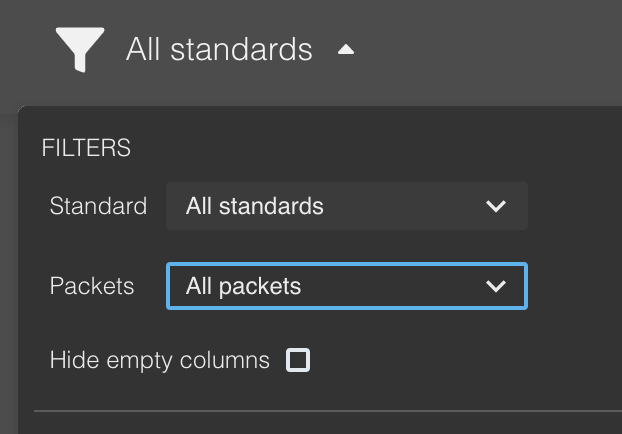 Users can also filter the Time View columns by the prefix of the packet number. Depending on the packet numbering guidelines that your organization uses, this may enable filtering by unit number or assessment type.
Users can sort or filter the displayed data by tag or score by clicking on the packet number at the top of the column.

Click the plus button to sort from highest to lowest score.
For an exit ticket, click a tag to filter so that only the students with that tag will display (you can still navigate left/right to their other work).